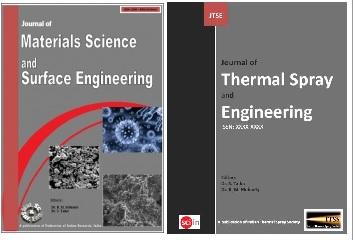 We are publisher of international scientific journals. The company currently employs a large number of editorial staff who efficiently combine their efforts with hundreds of worldwide recognized reviewers and specialists in order to publish our peer-reviewed editions.
INSCIENCEIN aims for our journals to maintain the highest international standards of quality, with Editorial Boards composed of scholars well known around the world. We aim to combine the highest international standards of scientific quality together with a fast and efficient peer-review process. The publication costs are covered by the author, the author's research funds, projects, grants, etc., or by the author's institution. Owing to the efficient work of our referees and scientific staff, the papers submitted to our journals are refereed within one month and upon acceptance the papers are published within seven days. Open access publishing makes the research more useful because papers published in open access journals are not only read by more people, but also cited more often. Open access publishing significantly increases the speed of the publication process and gives the possibility for much wider spread research works provided worldwide, barrier-free access to all of the scientific community.
Science IN will continue to keep our growing force in the scientific publishing and develop the high quality, knowledge-based products and services for the scientific, academic and research communities worldwide.
Your Rights, Our Responsibility
As an author at Science IN, your rights will be protected and ensured that any and all legal information and copyright regulations are addressed. Whether an author is published with Science IN or any other publisher, we hold ourselves and our colleagues to the highest standards of ethics, responsibility and legal obligation.
Active Peer Review
All of our journals, which are run by a group of experienced professional editors, are subject to an efficient, fair, and constructive peer review process.
Maximum Global Distribution
Our sales and marketing teams will ensure that your article gets the widest exposure possible and our website guarantees visibility, including social bookmarking services, so your article reaches those who need to read and cite it.
High Quality, Reliable Rapid Production
Our production teams work together to continuously improve and enhance our services, building issues online and our new, even quicker production workflows. We deliver these innovations without compromising our high quality standards.
Access and Archiving Policies
We publishes peer-reviewed scholarly journals indexed in many international databases. All of the journals published by INSCIENCEIN provide immediate free access to the full text of articles in PDF format. This policy is very well compatible with the definition of open access where PDF is always free. The journals also permit author's self-archiving. The open access policy of the journals aims to increase the visibility and accessibility of the published content and provide the desirable research impact.
Resources
Resources for Authors:
We offer our authors quality, speed of production, excellent editing, marketing, and distribution service. We are committed to innovative publishing, publishing in electronic form, and we particularly welcome new ideas and feedback from our authors and readers. We know the importance of your research being published as quickly and efficiently as possible. With your input, we can guarantee a streamlined production process to ensure that your paper can reach the academic community rapidly and with maximum impact.
Resources for Librarians:
At Science IN, we are committed to providing both academic and public librarians with the tools they need to most effectively serve their patrons. We gather information regarding the needs of libraries and provide it to those producing new products at Science IN. We also provide you with the information you need on our current and forthcoming products in order to better manage your collection development.
Our Journals
Journal of Materials Science and Surface Engineering: JMSSE